Graham Reid | | 3 min read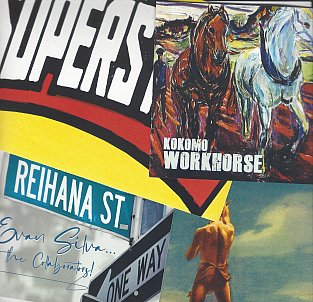 Facing down an avalanche of releases, requests for coverage, the occasional demand that we be interested in their new album (sometimes with that absurd comment "but don't write about it if you don't like it") and so on, Elsewhere will every now and again do a quick sweep like this, in the same way it does IN BRIEF about international releases.
Comments will be brief.
.
Evan Silva and the Collaborators: Reihana St (evan-silva.com)
The career of r'n'b/soul singer Evan Silva goes back to the Sixties when as an Orakei-raised teenager he was playing Auckland clubs like the Galaxie and Top 20 with the band the Action. Then there was time in Sydney with Compulsion, Hamul, studio work on jingles, the indulgent lifestyle and so on, which he documented in his book Under the Afro a few years ago.
These days he works the corporate circuit with various equally seasoned musicians, is a marriage celebrant, speaks of the Christian faith which saved him and still writes and records original material.
This 14-track album named for the street he grew up in – with professional players such as Ernie Semu, Liam Ryan, Robbie Karena, Gordon Joll, Steven Small and Lindsey Wakem – finds him delivering soul-filled, often autobiographical lyrics (or hard-won truths) over persuasive and often smooth jazz-soul.
There is a gorgeous sadness on the Pacific-kissed ballad Two Steps To One brought home by Silva's deliberately weary delivery and lovely slide guitar by Kirk Lorange; there's a smart tribute to Ella Fitzgerald, Sam Cooke, Motown and Sixties pop-rock on the engaging It Ain't Over; and Secret Love (with cello) sounds like it should have been a standard in sophisticated clubs since the Fifties.
Elsewhere, for some this will be too MOR and polished in the manner of mellow LA jazz of the Eighties, but aside from a few unconvincing songs there's no denying Silva's craft and the appeal this will have because it pushes some familiar buttons from Stevie Wonder to George Benson.
You can buy this album here
.
Kokomo: Workhorse (Boatshed/bandcamp)
Long-running Kokomo – who have appeared a few times at Elsewhere – are utterly old school: they make CDs and send them to reviewers (not just a link to bandcamp) and provide bios etc.
We quote from their latest bio to give you the flavour: "It's taken 30 years, fifteen albums, three divorces, five children, one heart attack and numerous tours, but Tauranga blues & roots band Kokomo have finally made the great album they've been promising: 10 songs, songs about identity, songs about New Zealand, songs about life's choices, all presented with the lightest of touches, playful and heartfelt, with not a wasted minute".
That sounds about right: harmonica-coloured, blues-based originals from writer/singer Derek Jacombs (one by Nigel Masters, The Ballad of Kowhiterangi), two guest players (Alan Norman, accordion; Grant Winterburn, organ, piano) and sturdy songs . . . but also some interesting depths and different pointers.
Can't think of another similar album with cover art by Edvard Munch, Shelley's Ozymandias referenced (Bars Gonna Close), Highway 29 acknowledged . . .
Throaty ballads, jaunty crowd pleasers, well-honed players, flashes of knowing wit while sidestepping or deliberately tapping into blues cliches . . .
You can hear and buy Kokomo albums at bandcamp here
.
Trioglodyte: To The Glory of the Gods (iiii/bandcamp)
The on-going trio project of saxophonist Jeff Henderson (who has considerable "prior form" at Elsewhere), drummer Chris O'Connor and bassist Eamon Edmundsen-Wells continues with this improvised session at Auckland's Wine Cellar in a gap between 2021 lockdowns.
With guests Nava Tekela-Pule & Kraus on modular synths, this opens with the thrillingly challenging and hyperventilating eight minutes of Brain Cancel (it will have exactly that effect on sensitive souls), then dials back a little for the Gordian knot of melodies on the Bring Out You Head which in places sounds like a 33⅓ track of bagpipes and synths played at 78rpm (and that's a good thing, of course).
The relentless bass'n'drum rhythmic tread grounds the mesmerising, 10 minute Slang Tongue (the most immediately approachable piece here where Afro-future tribalism meets Art Ensemble of Auckland) and the half hour journey goes out with the abstract title track.
Elsewhere admires the utterly uncompromising nature of such albums on the iiii imprint because – aside from delivering aural missives from elsewhere to Elsewhere – if they didn't release this no one else would.
But this happened, and in real time.
You can hear and buy this album at bandcamp here
.
Superstarz: Superstarz (iiii/bandcamp)
In a cover which suggests a WWF line-up of its practitioners (some might say perpetrators) this 2019 live recording of a bunch of iiii artists and fellow travellers is one of the most retro-focused releases on the label, harking back to the most unfocused releases on Braille and Unsung in the early Eighties.
The closer Sex Smoke is an impressively grinding slice of downbeat, hefty monochrome rock-cum-jazz.
All music is self-indulgent to some degree but the repetitive rhythm'n'riffing and chant vocals elsewhere here from the big ensemble (guitars, bass, organ, drums, horns) make this release more like an event than an album, with a high "guess you had to be there" factor.
You can hear and buy this album at bandcamp here