Graham Reid | | <1 min read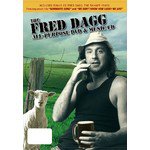 The genius of John Clarke in channeling rural culture and dry observations through his character Fred Dagg hasn't diminished in the two decades-plus since Dagg made his first appearance.
In part that is because there was a droll social and political observation woven into Dagg's view of the world. Dagg was a character with limitations of course so it was inevitable Clarke would take off to Australia and reinvent himself as an astute, often satirical, political commentator.
But that's all the serious stuff: the fact is that when you bang on either this two hours-plus DVD or the jam-packed CD you will probably be so busy laughing (sometimes self-consciously) that nothing else matters. The reading of the names of the All Black team -- "hooker, JP Frame, Horowhenua" etc -- still sounds timely, which may say something about the paucity of great New Zealanders thrown up in the past two decades?
Anyway, as a package this is hard to beat and I've just found the perfect gift for expat friends and family abroad.
Howlingly funny. Essential.