Graham Reid | | 1 min read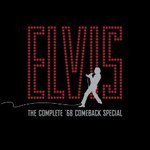 By 1968 the man who had almost single-handedly created rock'n'roll culture just a decade previous was all but irrelevant: Elvis hadn't sung live since a concert in Hawaii in 1961; his last top selling single had been Good Luck Charm six years previous; and his recent single Guitar Man had failed to enter the Top 40. He hadn't been on television since a Frank Sinatra special in May 1960.
While the Doors, the Byrds, the Beatles and hippies/Yippies and Black Panthers commanded the headlines in that year of assassinations (Martin Luther King, Robert Kennedy) and the escalation of the conflict in Vietnam, Elvis Presley was a man out of time.
He had retreated to Hollywood for increasingly terrible films and their lazy, dire soundtracks.
Then something remarkable happened: in June 1968 his manager Tom Parker decided Elvis needed to be on television and mooted the idea of a Christmas special. Elvis would naturally sing Yuletide songs.
But through a series of fortuituous connections and a rare alignment of talent (television producer Steve Binder, music producer Bones Howe who had worked with jazz legends such as Ornette Coleman and would later produce for Tom waits) and excellent musicians, a very different show started to be rehearsed.
Screened in December of that year it became known as Elvis' '68 Comeback Special because in a leather-clad sequence before a live audience Elvis delivered what we might now call an Unplugged session notable for its energy, passion and humour.
Not since he had emerged out of Memphis in 1956-57 had Elvis seemed so vital.
Even today on the three DVD set (released in 2004) or on this new four CD set of all the outtakes, rehearsals and the show that went to air you can hear the King reclaiming his crown.
This collection shows how relaxed but committed Elvis was, and how he was never more comfortable and at ease than when he was making music.
When the shy 18-year old Elvis recorded his first song My Happiness in Sam Phillips' Memphis studio he was asked by Phillips' partner Marion Keisker who he sounded like.
"I don't sound like nobody," he replied.