Graham Reid | | <1 min read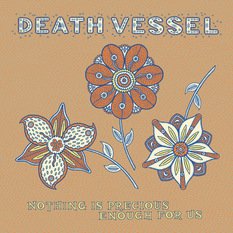 Just bringing this one to your attention because the band name might sound like a warning to many.
Nope, this isn't death metal or anything much louder than acoustic guitars (mostly) -- but even if you get past that misconception another may get you.
I listened to this right through before I realised that it was actually a man singing, a guy called Joel Thibodeau (the singer/songwriter etc) who has a pitch somewhere higher than most, but not right up there with Antony.
So this is slightly different folk-rock (with an oldtime jazz twist in places) from an American singer-songwriter who has toured with Jose Gonzalez and Iron & Wine among others.
Lyrically abstruse and abstract (ie. impenetrable) but having a weird charm, this album is also just strange enough to keep your attention throughout and even has an odd psychedelic-folk feel in places where those electric guitars slew in and push the banjo, mandolin and other such things aside.
Not an easy one to figure -- but the best ones usually aren't.