Graham Reid | | <1 min read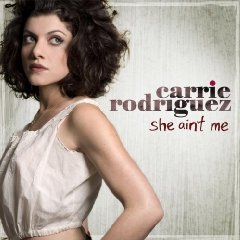 This alt.country/rock singer out of Austin and Berklee College of Music in Boston came to attention with her 2006 solo album Seven Angels on a Bicycle which won great praise from the likes of Lucinda Williams and Elsewhere for its melodic darkness delivered by Rodriguez in a voice pitched somewhere between innocence and experience. And she brought a Williams-like world weariness to some of the material which was gripping.
Her earlier Red Dog Tracks which had her paired with songwriter Chip (Wild Thing) Taylor -- for the third time -- is also worth checking out.
This album produced by Malcolm Burn (Emmylou's Wrecking Ball, Chris Whitley's stunning debut Living with the Law) sounds a little bright and pristine, but Rodriguez certainly keeps her end of the bargain in tough or sensitive pop-rock and alt.country, has Williams guest on the political/religious Mask of Moses and Jayhawk Gary Louris on vocals in two tracks.
But it is more clearly in the pop-rock camp (yep, with fiddles and country flavours) and sounds like it could make a mark at American country-pop FM. Not to say it doesn't have its moments (more than a few, and the title track is a winner) but my feeling is Rodriguez is probably much better live or in stripped back production, the like of which we have yet to hear from her.
Meantime though, this is definitely worth your attention and even if you prefer Seven Angels you'll still tip your hat to her.