Graham Reid | | <1 min read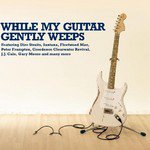 There's a lot wrong with this double disc compilation: the title track is from the late Jeff Healy not by its author George Harrison; Thin Lizzy's Still in Love With You is the studio version rather than the far superior live one; you get soft-rockers Bread (Guitar Man) and Matthews' Southern Comfort (Woodstock) jammed between Fleetwood Mac's Black Magic Woman and Peter Frampton's live Show Me The Way; there are some songs you never thought of as having guitar to the fore (Stealers Wheel's Dylanesque Stuck in the Middle With You) and if I never heard Daddy Cool's Eagle Rock again I'd die happy.
All that said, what is right about it then?
Well it is a damn fine collection for the car because you get to bellow along with Lynyrd Skynyrd (Sweet Home Alabama), get world weary for Creedence's Have You Ever Seen the Rain, thump the steeling wheel on the Doobies' Long Train Running, laugh along with Joe Walsh's classic Life's Been Good (where he reveals observations on fame worthy of Randy Newman, but to a better tune) and turn up the volume for Roy Buchanan's Sweet Dreams. And so on.
You can flick past nonsense like Blue Guitar (by two Moody Bluesmen) and Ozark Mountain Daredevils' vapid radio hit Jackie Blue.
So, utterly uneven as most compilations aiming for a genre are. But lots of oldies and forgotten gems to enjoy without ads for car sales yards and yelping radio jocks in between.
If you get my meaning.