Graham Reid | | 1 min read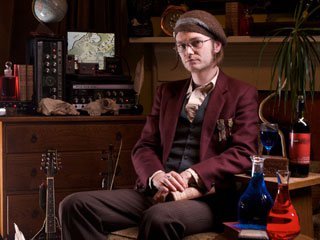 Opening with an arresting, one minute challenge of scraped and stabbing violin you could be forgiven for thinking the one-man band of Sam Prebble who is Bond Street Bridge is being beamed at you from the Contemporary Classical department.
It'll certainly grip you, as will dark alt.folk drone Black Market Soul Transplant which follows ("the devil got me drunk . . . woke up in the bath full of ice … stitches down my side where my soul used to be").
And with mandolin, organ, guitars, piano and so on, Prebble conjures up a disconcerting if eerily attractive world of discomforting images (safety barriers, stagnant puddles) with strange sonics and often enticing melodies.
And it seems he did all this with a laptop and a microphone.
The Mapmaker's Art sounds like little else you might have heard in New Zealand music in the recent past, this despite Prebble having been in the Broken Heartbreakers and Reb Fountain bands, and guesting on the recent White Swan Black Swan album.
Many of the arrangements are complex and could have slipped sideways from a contemporary film-noir soundtrack, others effortlessly meld electronic beats and acoustic instruments. And there is a vague sense of alt.country and old time Americana at work as well.
Lyrically Prebble lets chilling phrases slip out: "there's poison in the packet"; "the snakes all wear rosaries to ward off the evil eye"; "a woman with a ball and chain" . . .
It isn't all so unnerving: Silver has an almost jolly jaunt in its step (although it is about the devil and alchemy), and the quietly melancholy The Nature of the Blues is a standout which harks back to left-field Anglofolk and dark alt.country.
Sleeptalking has an effortlessly somnambulant melody, and Flower Song possesses a stately folk-framed elegance as if to be sung in a dark parlour while the half remembered melody of Bowie's Space Oddity floats through the room.
Rain is like a conversation with a drifter in a dream. Lovely.
Prebble's is a unique world and the title of the album is telling: he has created maps of places and emotions, and is inviting you in to explore them.
You should.
This may be punctuated with a sense of unease, but it is very different -- and very good indeed.