Graham Reid | | <1 min read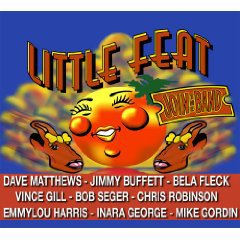 That Little Feat survived the death of founder Lowell George back in 79 wasn't so surprising. Much as George was the charismatic, stoned frontman there was no denying that this was a band of stunning musicians.
They took time out after George's death -- a decade almost -- but their re-formation was somehow inevitable. Naturally their critics will tell you that the version touring these days isn't a patch on the band that delivered albums like Sailin' Shoes, Dixie Chicken and Feats Don't Fail Me Now.
They may well be right, but most of the band these days are from that heyday, and you don't lose your chops overnight. Or even over the past 15 or so years it would seem.
This good-natured celebration of Little Feat some 35 years on from their breakthrough as a Southern funk-rock/blues/country band has a revolving door of guests: Dave Matthews and Sonny Landreth; Bob Seger; Vince Gill; Jimmy Buffett; the Black Crowes' Chris Robinson; Emmylou Harris . . .
That's a pretty impressive bunch of fans and friends ready to replicate the slippery, funky sound of ther band -- and they do it well.
For purists the old albums are still out there (and the 2000 Hotcakes and Outtakes box set) but this one sounds like real good barbecue music for when the season is right.
And Paul Barrere is still one of the finest slide players on the planet.