Graham Reid | | 1 min read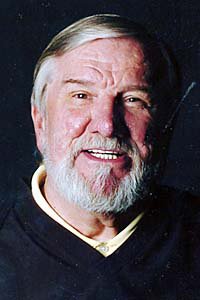 Strange though it may seem that in the same week Elsewhere gives a heads-up to the forthcoming album by the formidable Grace Jones, we also acknowledge this positively ancient country-folk singer. But Elsewhere has always found a place for the likes of Wilson, Ramblin' Jack Elliott and others in their 60s and beyond.
Wilson won't be a familiar name -- his last album was a whopping 28 years ago -- but back in the 70s he was one of the list of outlaw artists alongside Willie Nelson, Guy Clark, Kris Kristofferson and others rebels.
At the time no less an authority than John Hammond of Columbia (the one who signed up Bob Dylan and Billie Holiday) considered Wilson the most exciting thing he'd seen in a couple of decades.
Wilson's albums were acclaimed but by the late 70s he hadn't reached the heights any expected of him and he retired from music for a decade. He made a tentative return in the 80s playing singer-songwriter nights, some of his albums were reissued to great critical response, and for this album he took himself into a studio for a week and delivered up a bracket of songs which are emotionally gripping and speak of love and faith lost, and of the disillusion life can offer.
But he does this in such an affecting way -- his dark brown voice, spare accompaniment on guitar, emotion poured into every considered lyric -- that it is hard to tear yourself away.
Kristofferson says Wilson can break your heart with a voice like a cannonball, and Will Oldham (Bonnie Prince Billy) says this is the guy you come to if you want to hear a song delivered from the inside out.
Both Mojo and the Independent gave this album four stars: Mojo saying "with decades of disappointment and broken hearted expreineces behind him [Wilson] has returned with this sparse, beautiful ode to self-pity"; the Indepenedent observing these songs "are as gripping as the late Johynny Cash recordings, full of languid ruminations on the past and bitter existential reflection"
Wilson brings wisdom, world weariness and real human emotion, so even though it seems odd he might cohabit the same space here as Ms Jones, he is more than welcome.
Like her, he also took his time.