Graham Reid | | 1 min read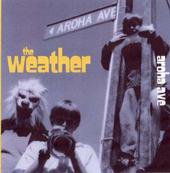 The singer and songwriter behind the Weather is Matthew Bannister, formerly of Sneaky Feelings who drew their inspiration and aspiration from the pantheon of classic pop (Beatles, Beach Boys) and reputable country (the Louvin Brothers). And that meant they were isolated in the middle of Velvet-influenced bands and noisy neighbours on the Flying Nun label.
After three fine albums the Sneakies were no more (the other songwriter David Pine went on to Death Ray Café et al) and Bannister formed the short-lived Dribbling Darts of Love. He also joined Don McGlashan's band and in 2000 wrote his band-biography about the Nun years in the very readable, take-few-prisoners Positively George Street.
This year he released Moth, lo-fi but melodic home-recordings under the name One Man Bannister -- but now comes this fully fledged album with his current band the Weather.
Bannister's direction remains unwavering: crisply delivered, melodically memorable pop lightly embellished (here a trumpet, there a saxophone, backing vocals where necessary) and the musical references are much the same: solo McCartney (especially in his post-Beatles domestic phase), a bit of country consciousness, a Lennonesque touch on Keeping in Practice . . .
In a sense Bannister's ambition seem more modest than in the Sneakies and this album -- full of domestic and suburban detail (clothes lines, barbecue, a television show) -- comes off as much more relaxed: there are comfortable strums (Middle of the Night written by bassist/singer/wife Alice Bulmer, Don't Even Think About It), vocals of the unashamed "do-do-doo" kind, and Keep in Touch could have slipped of McCartney's first solo album. (Or if you are less charitable London Town.)
Treasure Island is a poppy romp (think a rather more chipper Bats) which drips a little acid on reality shows contestant in search of fame, and later the happy couple sing about living in Sandringham (with only the slightest hint of cynicism) -- but Ask Anyone is the standout: a slightly eerie, distant but emotionally engaging piece that is the equal of anything he has ever written.
Some may find this lightweight -- it does err from light touch in that direction -- but Bannister is long used to that comment (and worse).
What is here however should find its way to radio (in the best of all possible worlds, I have to add) and in the long run that is where he always wanted to be.
Ain't nothing wrong with that.