Graham Reid | | 1 min read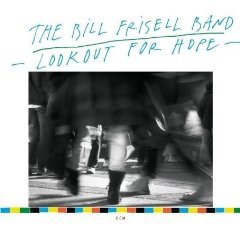 It would be a brave or foolish person who tried to give a snapshot of the career of this guitarist in just a few short sentences: so here goes a fool.
Frisell came out of the Midwest (so there's some country, widescreen sensibilities and folk for you) and studied at Berklee with Jim Hall (some straight jazz into the mix).
He became an integral player in the New York Downtown scene with his trio (Joey Baron on drums, Kermitt Driscoll on bass - I saw them in the Knitting Factory, extraordinary) but got a break when Pat Metheny couldn't make an ECM session with drummer Paul Motian. Frisell sat in and that album Psalm in 82 is one of the best in the label's early catalogue.
Frisell brought a swooning and woozy tone to the album (his work on Mandeville is worth the admission price alone), and that became a signature style.
He has explored straight country and bluegrass in his distinctive manner and is perhaps best known as the name in small print on albums by Elvis Costello, Paul Motian and saxophonist Joe Lovano, John Zorn, Jan Garbarek, Marianne Faithfull (he's on Strange Weather), Vic Chesnutt, Loudon Wainwright, Lucinda Williams (West), David Sylvian . . .
Enough already.
This mid-price album from 88 in the ECM Touchstone reissue series is the ideal sampler if you want to hear guitar playing that offers the beautifully unexpected, twists of melody, corkscrew tunes, shifts of time that catch you by surprise -- and everywhere sounds just gorgeous because of his warm tone. There's also humor aplenty in this music and what doesn't have you on alert will have you grinnin' like a fool.
Terrific stuff.