Graham Reid | | 1 min read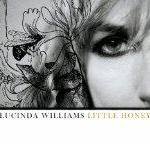 After her last, quite exceptional but largely melancholy album West (in part influenced by death in the family) it is almost as if Williams is here staking her claim again to some sassy rock'n'roll threads.
The opener Real Love blazes off the disc and the closer is a cover of AC/DC's It's a Long Way to the Top (If You Wanna Rock'n'Roll) which, it must be said, she delivers in her distinctive world-weary manner.
Little Rock Star in the first third probes the disappointments inevitable in the rock'n'roll fame game and over an increasingly abrasive rocking attack she offers observations of a too-young starlet who has checked out (emotionally and maybe almost literally). I guess Williams had been watching the unravelling of Britney Spears/Amy Winehouse and felt genuine sympathy.
Elsewhere she offers low and mean blues (Tears of Joy), dirty arse rock'n'roll (the rollicking and blatantly sexual Honey Bee), pulls right back for the moving ballad The Knowing, and ponders mortality on Heaven Blues where she speaks of seeing her beloved mother on the other side. There is a mini-epic in the nine-minute Rarity (where she brings in brass for the first time).
The band here is her road-tested outfit and they offer brittle and sometimes brutal support, but are pulled back sometimes to let that remarkable voice take centrestage. And guests include power-poppers Matthew Sweet and Susannah Hoffs, Elvis Costello on the country cliched Jailhouse Tears, and octogenarian Charlie Louvin (of the Louvin Brothers) on the good natured, country-flavoured pickin' of Well Well Well.
Williams is in a different place now than she was on West -- not exactly a "happy place" though as some songs reveal -- and her sheer pleasure in music (whether it be alt.country, blues. rock'n'roll or whatever) and life (references to her boyfriend, sex) is a delight to hear. There is a directness on Little Honey that she hasn't approached in some time.
Hard to believe, but a couple of decades into her career Williams, now 55, just seems to be getting better.
Can't wait to see some of these delivered live.