Graham Reid | | <1 min read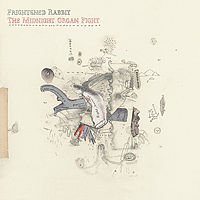 This three-piece from Glasgow have an urgent delivery which puts you in mind of the Waterboys at their best, but of course this is very Scottish. Tossed out with garage band energy and a rare passion, they sound like they could play local halls to mature audiences (the charming Old Old Fashioned) as well as post-punk clubs where a wee bit o' headbuttin' wouldn't be uncommon.
Driven by an engine-room of guitars (often delievred with indie.rock breadth) the strongest songs simply grab you by the throat -- but it is the ballads which have a unique grandeur and elevate this beyond others.
They sing of ordinary things (lost love, spiteful feelings) in an extraordinary and honest way: "I might not want you back but I want to kill him . . ."
This band has enjoyed rave reviews in the UK ("utterly beautiful" said NME, "spine-tingling, infectious and heartfelt" trumpeted Mojo) but my guess is they will go straight past radio and reviewers here.
It doesn't give itself up on the first hearing but over the long haul this invites multiple plays and each time new things emerge, another song becomes a favourite.
Raw, urgent and honest alt.folk-rock which has the bracing invigoration of a single malt on a chill night.