Graham Reid | | 1 min read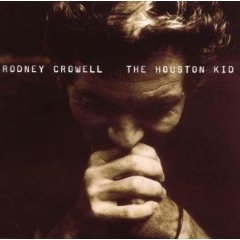 Rodney Crowell's star has been in steady decline since the 80s and now the former son-in-law of Johnny Cash and rockin' country singer-songwriter is on the same minor label as Dolly Parton who also seems to prefer a smaller label.
On first hearing, the quasi-autobiographical The Houston Kid sounds uneven, but after a few plays its power as a series of narratives kicks in.
Crowell has dropped the rock attack of earlier years and with a small band places emphasis on stories which bristle with images and a sense of place ("in the shadow of the Astrodome with a hurricane coming on strong").
There are a few workmanlike songs (Why Don't We Talk About It, and U Don't Know How Much I Hate U which isn't hip-hop despite the title) but the melancholy first-person stories are moving: The Rock of My Soul is about the soul trap of "another Houston kid on a downhill skid, like father like son" and I Wish it Would Rain is a "cracker gigolo dressed up like trick or treat" living in LA with "the virus flowing way down in my veins."
He pays homage to his former father-in-law on I Walk the Line (Revisited) with Cash guesting and Highway 17 is a spoken word story of irony and bad luck.
Crowell was one of those promising country-to-rock singer-songwriters who was always going to be big tomorrow.
That won't happen this far into his career, but this is a very good tomorrow for him, and us, to be enjoying.