Graham Reid | | 1 min read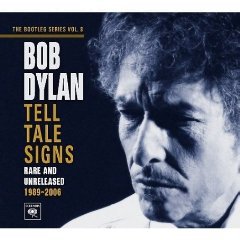 After the less-than-essential Vol 7 which accompanied the brilliant Martin Scorsese Dylan-bioflick No Direction Home (if you got the DVD you could probably pass on the CD) this on-going series of unreleased/rare/alternative versions hits another peak with this exceptional collection.
There are a number of reasons for that: look at the period it covers and you may see it is the late-career resurrection of Dylan; these were sessions for albums where he, his band and co-producer Daniel Lanois seemed to be lavishing a bit more attention on the music than Dylan had in earlier times; and the material was all of a piece in terms of where it was coming from emotionally, and uniformly strong.
So strong in fact that here are more than a few songs you are astonished were left on the cutting room floor after sessions for the albums Oh Mercy and Time Out of Mind, notably the focus-shifting narratives of Red River Shore, Born in Time (a mature revisit to the track on the mostly dreadful Under the Red Sky) and Dreamin' of You.
Here too are songs from soundtracks (the glorious Tell Ol' Bill from North Country and Huck's Tune from Lucky You), and another version of Dignity which has been a Dylan favourite. Here it is a bone-bare and yet urgent.
The years covered here find Dylan in a dark, folk-country mood (the closer is a live version of High Water, For Charlie Patton) but his story-telling, imagery and the sense of foreboding in some of the music (the dobro on Born in Time, the spare acoustic treatment of Most of the Time) are often close to sublime.
If this were the new Dylan album it would be hailed in the same terms as Modern Times and Oh Mercy.
It is head-shaking that most of these songs or versions were left behind. Until now.
Exceptional.
A note to Dylanologists: this comes in single, double and triple CD versions.