Graham Reid | | 1 min read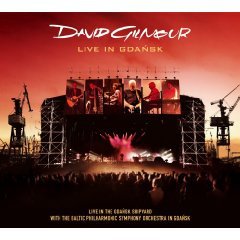 Although perhaps only the most dedicated Pink Floyd fan might want this double disc (or the double CD-double DVD version, or the collectors edition which is a five disc set!) let's get a little focus on this exceptional guitarist and his place in the pantheon.
From the moment he joined Pink Floyd and more so immediately the band had cut loose Syd Barrett, Gilmour proved to be a player unlike few others of his era. Most English guitar gods of that period (Clapton, Peter Green etc) had come out of a blues or r'n'b background. They had honed their playing on Long Tall Sally, Route 66 and Robert Johnson material and the bands of the period (Stones, Who, Kinks and so on) had all done the hard yards in clubs where the short sharp three-minute r'n'b standard seemed obligatory.
Gilmour appeared to possess few of those instincts or use them as a default position in his playing: acid rock had arrived and in 68 when he joined Pink Floyd he was perfectly placed to essay his long, astral flight solos. The template had been sketched out by Barrett and the band already, but it was Gilmour who quickly adapted it to his own ends and, with the musical canvas coloured by Roger Waters-penned material such as A Saucerful of Secrets, he simply soared.
His distinctive guitar sound - precise, mercurial, clean and often utilising delays and effects - became the signature of Pink Floyd on a musical level.
That must have made it easy for Gilmour to take the helm and chart a similar Floyd course after Waters' departure. In many ways Gilmour was "the sound" of Pink Floyd.
This double disc beautifully recorded live in the famous Polish shipyard has Gilmour and band (former Roxy Music guitarist Ray Manzanera, the late Floyd keyboard player Rick Wright and others, plus the Baltic Symphony Orchestra conducted by Zbigniew Preisner for added oomph) going through significant Floyd material and some cherry-picking from his solo albums -- but the fact is that the heads of the songs fade into insignificance when the guitar takes flight. As it does frequently.
As Waters' concerts prove, the Pink Floyd catalogue (and that of the various solo project) can be glum stuff (it's all alientation, emotional disfunction and blah blah) but the best here on the second disc is quite stunning: Shine on you Crazy Diamond, Barrett's Astronomy Domine, Wish You Were Here, Comfortably Numb . . .
Yes, one mostly for Gilmour and Floyd completists perhaps, but also a reminder of just how significant a musician Gilmour has been. And still is.
By the way, the clips I have seen from the DVD footage are frighteningly good. That might be the way to go if you are halfway serious about this one.