Graham Reid | | 1 min read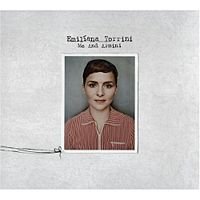 Only the most diligent Elsewhere reader with perfect recall might remember this Icelandic singer who appeared on the Next Brel compilation/tribute to the singer-songwriter Jacques Brel which appeared here some time last year.
Torrini was one of the standout performers on that album and she has certainly drawn enormous praise for her previous albums released in he UK. Of her last one the Guardian drew comparisons with Nick Cave and Leonard Cohen, and the Sun said "each delicate note hangs in the air like a freeze-framed raindrop".
Can't say I heard that album - nor do I remember her turn in the Lord of the Rings: The Two Tower soundtrack either - but I doubt those comments would entirely apply to this new one which seems to go in a number of fascinating directions and borrows from Sly'n'Robbie reggae, a little Grace (and Norah) Jones, and delivers some astonishingly beautful balladry alongside swirling soft psychedelic rock.
Much of the credit must also go to Torrini's longtime producer/collaborator Dan Carey who provides the sonic textrures in which her warm voice (and slightly oddball lyrics) are placed.
So whether it be the gently driving ragae of the title track, the slightly bitter Ha Ha, the exceptional Bird with its Fripp and Eno-like guitar landscape in the centre, or the jump-up pop of Jungle Drums (which steals from a song I cannot place, unless it is Convoy!) there is much to immerse yourself in here.
Frankly she's better on the ethereal ballads - and the good news is here are quite a few.
She's different, her storytelling comes from a peculiar direction, these songs are broadly pop, and maybe this time her name will stick with more than just the diligent.