Graham Reid | | 2 min read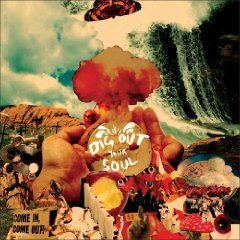 Well, no one - least of all the man himself - ever said Noel Gallagher was a wizz with a lyric, but this rowdy and sometimes thrillingly psychedelic album hits some new lows when it comes to raiding his beloved Beatles or just going for the bleedin' obvious.
Among the laugh-out-loud moments here are references to "revolution in her head" (Revolution in the Head was a fine book about the Beatles), "an apple in my eye" (Apple was the Beatles' record label", "she said 'I'm tired' " (that's two Lennon titles right there) . . . and all those are just in one song, the quite terrific and noisy Waiting for the Rapture.
"Love is a magical mystery" (in The Shock of Lightning") is just a "tour" away from another Beatles' song. And there's even a sound sample of Lennon in one track.
Elsewhere among the more lazy rhymes you get "love is a time machine, up on the silver screen", "you gotta keep on keeping on" -- and the Stones seem to pop up too: "catch the wheel that breaks a butterfly" is an inversion of the heading on a Times editorial about the Stones being busted in the late 60s and later there is "shine a light" . . .
And so it goes. Ringo's son Zak is still on drums and you don't have to be too smart to hear aural refrences to any number of Beatles songs.
But here's the thing: this album sears the ears rather nicely and this one really stakes a claim in the trippy ne-psychedelic arena. The sound swirls and drones, and while you can't imagine anyone slightly sceptical coming away converted, it certainly does more than enough to vaildate them at this point in their career.
I count this as their seventh studio album which puts it about their Sgt Peppers/White Album period - but these grooves are kicked along by a Stones/T-Rex brashness in places that is welcome, and sounds built for the big stage.
Nothing here will persuade you if you are indifferent to them, and to be honest in places there is much to feel indifferent about.
But when they kick it in there is some rogueish charm in their naked borrowings (both 2000 Light Years From Home and Tomorrow Never Knows on Falling Down, Tomorrow again on To Be Where There's Life!)
If the Gallaghers could bring themselves to listen and draw a little more widely - as their heroes did - you suspect they could have been a much better band.
Too late for that now of course, but half of what is here vindicates the time away and spent in the studio.
Noel Gallagher always claims every new Oasis album as a classic then later says it was rubbish, and I don't doubt he'll do the same with this. Believe half of what he says.
*Some versions of this come with a making-of DVD and the video of Shock of Lightning. It's interesting. They were back in Abbey Road.