Graham Reid | | 1 min read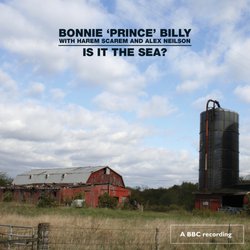 Recorded live in Edinburgh before the release of his last album Lie Down in the Light (which as noted here was a slightly more upbeat if not uptempo outing for this prince of dark places) this is an exceptional release in the ever-expanding Billy (aka Will Oldham) canon.
With a small band of folk-locals Harem Scarem and guest voclaist Alex Neilson, Oldham reaches right back to some material from his earliest incarnation under the Palace moniker to the almost breezy Love Comes To Me from his 2006 album The Letting Go.
What impresses here is not simply the breadth of his songwriting - from old weird America to hints of Celtic folk, from murder ballads to suggestions of gospel - but the persuasiveness of his delivery while accompanied by fiddle, often hymnal sounding backing vocals and the most skeletal of acoustic guitar.
There is an almost ancient voice being conjured up which is timeless and intimate, and the large audience is hushed throughout.
Like Bob Dylan, Bruce Springsteen and (lesserly so) Neil Young, Oldham refashions older material to re-create them for himself and his audience, so this is not simply a "greatest hits" (ho ho ho, Oldham having a hit?) rendered live but songs being reoccupied and reconsidered.
Standouts are numerous but Wolf Among Wolves is utterly hypnotic as his voice cracks and creaks over wheezing accordion as he addresses pains of love and his weaknesses.
If Oldham/Billy/Palace etc is somehow only just coming on your radar then this would be a fine, if typically dark and demanding, place to start - although Lie Down in the Light might offer a few more rays of sunshine.
If Billy is already your man then this is one to confidently add to that burgeoning catalogue.
This is really quite something.