Graham Reid | | 1 min read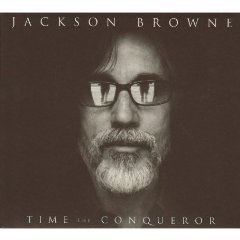 This album title partially reflects the thoughtful Browne's frame of mind in many tracks here: he's 60 and a greybeard so it isn't surprising he might be in reflective mode - as he is on the title track, where he looks back to when "there was change in the air, it was love everywhere" and sings of an innocent love of his youth on the quite beguiling Giving That Heaven Away.
But mostly he is in typically philosophical mode pondering the great questions of our time - as an American Democrat must - in lyrics which wonder what kind of world we believe in, what is worth fighting for, how we can locate genuine love, the low nature of the American presidency and the state of his nation (the finger-pointing Where Were You about Bush's lack of response to Katrina and the social aftermath).
Musically Browne holds his familiar course, that laconic delivery which sometimes seem to carry the weight of the world - so it is only on the tracks like the jaunty Caribbean lilt of Going Down to Cuba (a somewhat rose-tinted view of that country, it must be said, unless he is being more subtle than I credit) or the lovely The Arms of Night where this really engages the heart.
Too often the numerous lyrics get in the way of the music which is attempting to carry them.
But there are some strong songs here and he saves the best for last: the almost hymnal optimism of the quietly soulful ballad Far From the Arms of Hunger.
Browne and his slick band tour New Zealand in February/March and while it will be natural for longtime fans to want to hear the classic old material, there are three or four from this which would stand as their equal in any live set.