Graham Reid | | <1 min read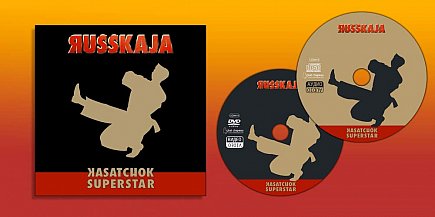 Not sure whether the ska/guitar rock/folk-dance of this Russian/Balkan/German seven-piece from Vienna (sometimes, they tour for about two-thirds of the year) will catch on -- but my guess is once they have been sampled live they will, as they say, tick all the right bpoxes.
Those boxes being: energetic (yep); danceable (yepyep); enjoyable (natch) and slightly exotic (well, they are pretty different - and sometimes wear the right Cossack clobber too).
Of course cynics among us will say that after Jewish klezmer, Gypsy jazz and Jewish surf-rock Boom Pam, see tag) this was almost inevitable. But that takes nothing away from the fact this 14 track album is very enjoyable when played loudly, and tracks like Dope Shit sound like they are tailor-made for Vodka slammin' nights.
They steal from the Clash, the BeeGees, the Specials, Wipe Out, German metal . . . .
And yes, if you only partied out a couple of times to this, what does it matter. It's a lotta fun -- and comes with a 30 minute live DVD. So you quite literally, get the picture.