Graham Reid | | <1 min read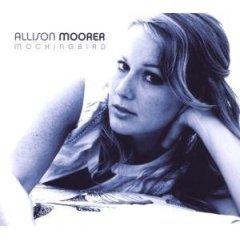 Moorer has quite some story: she is the younger sister of Shelby Lynne, was 14 at time of the murder-suicide of her parents, her ballad A Soft Place to Fall appeared in The Horse Whisperer and earned her a Grammy nomination, and she is the seventh Mrs Steve Earle (although to be fair to Steve he married Lou-Anne Gill twice) with whom she currently tours.
As with Earle - who only appears here on one track - her musical reach is wide: on this album of covers of women singer-songwriters she takes on Johnny Cash's Ring of Fire (written by June Carter Cash and Merle Haggard) as a moody and reflective ballad; delivers a fairly straight version of Patti Smith's Dancing Barefoot and Joni Mitchell's always beautiful Both Sides Now; acquits herself soul-country style on Nina Simone's sensual Sugar in My Bowl; reaches back to Ma Rainey for Daddy Goodbye Blues, to Gillian Welch for Revelator and Cat Power for Where is My Love . . .
Oddly enough the title track here is the sole original and not a cover of the old hit.
Crisply produced by Buddy Miller and heartfelt throughout, but some might be wanting more Moorer on their Moorer album.