Graham Reid | | 1 min read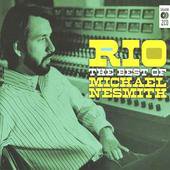 Mike Nesmith was the first to kick against the constraints of being a Monkee: after all he was an established songwriter and proficient guitarist before he scored a role in that Hard Day's Night-styled knockabout tele-comedy -- and his original songs were covered by a number of artists, not the least Different Drum which Linda Ronstadt and the Stone Poneys picked up, and which launched her career.
With a slight country bent to his songs, Nesmith was also one of the first alt.country artists -- although he enjoyed his biggest successes with the woozy, tongue-in-cheek Rio and the Zappa-esque narrative of Cruisin' (aka Lucy and Ramoana and Sunset Sam, which the Headless Chickens used to cover).
But songs like the lovely Joanne (with his First National Band), Papa Gene's Blues, Some of Shelly's Blues (covered by the Nitty Gritty Dirt Band) indicated the style that was closest to his heart.
That one of his albums was called Pretty Much Your Standard Ranch Stash also showed he had a dry sense of humour -- and he was one of the first artists to see the potential of providing a film clip with a single, hence being in the vanguard of the MTV age.
This double disc collection is an odd but interesting one: the first disc is studio tracks (Rio, Cruisin', the ambitious and wind-blown Navajo Trail, ) and the second is peppered with live tracks (Different Drum and Joanne being very countrified, Some of Shelly's Blues, some amusing on-stage foolery) and then big band treatments of some of his songs (!) as well as other materia from various albums.
It makes for some schizophrenic listening: the doo-wop framework in Magic leads into a country hoe-down on Tonite then there's 70s guitar and white-boy funk of Flying.
Nesmith was always muscially ambitious (his 75 album The Prison came with a book to be read along with the music) and quite some unconstrained intellectual.
This collection will give you an overview of his solo career and, bewildering though it might be, you may be surprised by how many of these songs you know, or glad to now be on familiar terms with.