Graham Reid | | <1 min read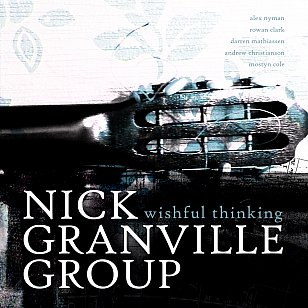 There has been quite a wave of New Zealand jazz in the past few months: reissues of albums by Parallel 37 and Space Case, the new album by Strange Fruit, the schoolboy band Grammaphone . . .
And now this very timely outing from a band helmed by guitarist Granville which arrives just after that extraordinary show by saxophonist Joe Lovano and guitarist John Scofield.
As with Sco'n'Joe, Granville and group have a sometimes abrasive, post-rock character to their spiralling playing and they aren't out to just make polite jazz for whatever "masses" there might be out there. (None actually, so why bother?)
This is ambitious, often gritty playing which comes from ante-upping like-minded fellow-travellers: saxophonist Alex Nyman, bassist Rowan Clark, trumpeter Andy Christiansen, drummer Darren Mathiassen and Mostyn Cole on Fender Rhodes.
A couple of tracks capture them live at the Nelson Jazz festival): the 11-minute, prog-jazz and vaguely pastoral title track confirms their emotional breadth and on the equally extended Play It Again the whole band swings deftly, especially Nyman who takes out the centre of the piece.
These two tracks alone tell you this Wellington outfit is perhaps best appreciated in the flesh. Until that happens though this is a very impressive calling card.