Graham Reid | | <1 min read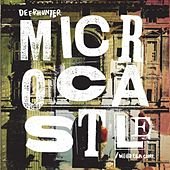 To be honest, this album by Bradford Cox and his Athens, Georgia band -- he's also the man behind his solo project Atlas Sounds, an album reviewed very favourably here some weeks ago -- sounds like a lot of other people, but what a lot of great other people: the Velvet Underground, the Church, the Pixies, the Cure, Mojave 3, Jesus and Mary Chain, early 90s shoe-gazer/paisley underground pop . . .
If you are going to filter feed on your influences then these are among the best, and this album fairly bristles with melodic ideas, memorable pop, dense guitar riffery and fuzz, and eerie Eno-like atmospherics (or perhaps more closely David Sylvian's glistening and humanely ambient solo stuff).
Not having been party to their earlier (and apparently louder) albums this one doesn't sound to me like it is a compromise: songs fly out here and have breadth and texture which is almost palpable.
Not sure about the sound collage and Victorian vampires on Saved by Old Times, but that's a slight complaint about an album that wooed and won me from the opener.
I believe that early copies of this come with a 13-song bonus disc of new material. I want that one too.