Graham Reid | | <1 min read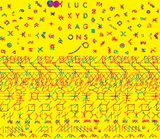 Hmmm, interesting and definitely not for everyone as this LA group (with a very flexible line-up) strip things right back to primitive music-making (handclaps, simple percussion, shakers, flutes, wordless vocal chants) and then edit the results into spare "pieces" which have a neatly minimalist quality. They aren't averse to electronica but it is very subtle.
Much of what is here recalls the early hand-clapping work of Steve Reich, the field recording of watersplash rhythms used on Jon Hassell's Dream Theory in Malaya (way back in 81!), the flowerpot percussion of Stephan Micus, and others who largely eshew the modern for the purity of the primitive.
That isn't to say this is faux-naive or fake ethnic, although it could be read as that. But there's a keen intelligence at work as those reference points (and those to Philip Glass, My Life in the Bush of Ghosts, the Incredible String Band, the repetitions of Kraftwerk and From Scratch, and others) suggest.
It is ambient, borrows a little from Laurie Anderson's layering of repeated vocalisation and percussion, and has a very trippy mood-piece ambience. I'm sure they are big at post-hippie festivals, but they've also found a place in my listening.