Graham Reid | | <1 min read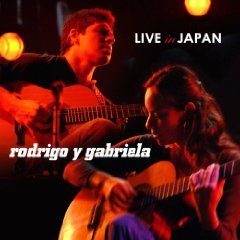 The incendiary Dublin-based acoustic guitar duo out of Mexico that is Rodrigo y Gabriela have redefined what we might mean by "acoustic". As post-punk hard rockers -- and Gabriela capable of hilarious, Ozzy-amounts of profanity in interviews -- they bring that kind of energy and intensity to their playing which is also driven along by using the guitar bodies as percussion instruments.
They have to be heard to be believed. Or seen. And to that end they have astutely added DVDs to some of their albums, as they do here when they deliver a typically dramatic set to an appreciative audience in Japan.
To be honest, much of what is here will be familiar if you tuned in for their Live in Manchester and Dublin album, or their self-titled album which came with a terrific DVD: almost all of the set is drawn from those two albums (many originals but also Stairway to Heaven alongside Metallica's Orion and One).
If they are new to you go for the self-titled one with the DVD. But they do deserve your serious attention.
They rock out, but are also capable of great nuance.