Graham Reid | | <1 min read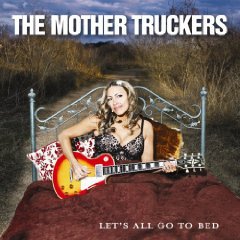 This tough Texas country-rock outfit with twangin' guitars, a stupid name and a photo of Led Zepp behind their amps is here because there is a huge pub audience for this kind of Southern barroom rock'n'roll which shaves off a bit of Lynyrd/Black Crowes/The Faces etc and arc welds it to a post-punk version of Stevie Ray Vaughan/Tail Gators etc.
Drinkin' music I think we might call it -- but fronted by gutsy singer Teal Collins on some tracks (that's her on the cover so you can see the appeal in Austin bars) or Josh Zee they offer some vocal diversity up-front of the hard hitting blues-rock. And when they cut back for the uptempo ballads Collins really comes into her own, a more country flavour evident. Makes for a very listenable package which, however, peters out in the final third.
They won't really mean anything here until they come and pull a massive crowd at a couple of bars which will have mainstream rock critics baffled and bit sniffy, and hotel manangers rubbing their hands with glee.
Play this sample track loud. You'll get the picture.