Graham Reid | | <1 min read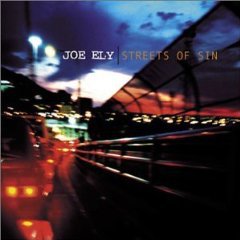 Ely from the flatlands of West Texas offers a triple threat: a memorable leathery twang cured in tequila, the paraffin soul of a rocker in the clothes of a Tex-Mex country singer, and a connection to a songwriting tradition which includes his gifted peers Butch Hancock and Jimmie Dale Gilmore (of the shortlived Flatlanders which included Ely), Townes Van Zandt, organist Augie Myers, Flaco Jiminez and the late Doug Sahm.
Sensible households will have his three decade-encompassing live albums (Live Shots of '80, Live at Liberty Lunch from '90 and Live at Antones in 2000) and personal favourites from a selection which would include Down on the Drag ('79), Musta Notta Gotta Lotta ('81), Honky Tonk Masquerade ('91) and Twisting in the Wind ('98). In other words a lotta Ely is a good thing.
This, the first album under his own name in more than five years (he appeared on the revived Flatlanders album), hardly breaks new ground - that's not Ely's thing anyway - but typically digs in with tough-minded songs (the bookend tracks come from old compadre Hancock) driven by a nailed-down band. As always he broods on the tough breaks in life (All That You Need) and offers photographic images or social observation.
Best tracks among the immediately familiar: the metaphorical Flood on our Hands and title track (pronounced "streets of seen"); the country-folk love ballad That's Why I Love You Like I Do; and Carnival Bum where he briefly branches into old Tom Waits speak-sing.