Graham Reid | | <1 min read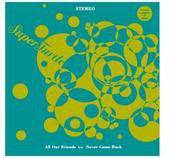 Elsewhere has previously applauded bands/artists who release vinyl albums and there is still something special about getting that slice of black plastic.
So it is only fair to put the spotlight on this Auckland band (fronted by Darren McShane formerly of Chainsaw Masochist) which has gone the 7" single route (fold-out sleeve! manufactured in the Czech Republic) to promote their album To The Rescue. And I like what they say on the inner sleeve where they extol the virtues of records (they allow selectivity of songs, they are attractive, they make a great gift etc) and conclude with "It always happpens first on records".
In the manner of disc jockeys of old then, I have flipped their single All Our Friends to spotlight this excellent b-side. For your pop-listening pleasure . . .