Graham Reid | | 1 min read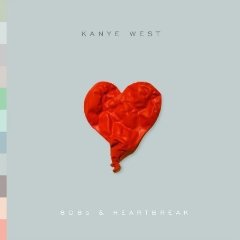 Because I don't listen to much of the over-produced, schmaltzy, ululating music that passes for r'n'b these days (in my old-fashioned definition I still link r'n'b to the soul of Otis, Sam Cooke and others), and nor do I spend much time with rap outside of some old school 80s favourites when there seem innocent innovation going on, or enjoying the menace of NWA, Public Enemy and Tupac), I can't say I know much about Kanye West's music.
I certainly am aware of his self-belief (not to mention arrogance) and have heard a few singles. So it not only surprised me that I even put this album on, but that I was hooked straight away. This is far removed from rap (he sings, albeit with rather too much Auto-tune effects in places which is familiar from Cher's Believe) and he clearly wants to place himself in a lineage beyond hip-hop culture.
He crafts reasonably concise songs with verse-chorus structures, keeps the music often eerily minimal over discreetly lush backdrops (I swear there are moments where he is closer to Phil Collins than phat culture), punctuates songs with oddly appealing bleeps and subtle electronic effects, and whether his followers like it or not you have to admit it is courageous.
In places its spare sound and pastel washes of synth reminds me more of some places on Prince's Sign o The Times as if reheard through Enya's stereo. He may have even been listening to classic Kraftwerk.
Of course there is heartbreak aplenty here (he lost his mother in a well publicised story of cosmetic surgery gone wrong and Coldest Winter here is a standout) and Heartless deals to his former partner in a more traditional rap manner. Guests Kid Cudi, Young Jeezy and Lil Wayne keep the street cred with his rap following, but mostly this is of interest for its daring, its ambition to be pop, and its musical and vocal understatement.
My guess is this album will be dismissed by his hardcore rap following, and there's little doubt it is weak in places.
But to hear him use his status to step away from expectation is fascinating. Some really memorable songs on it too.