Graham Reid | | <1 min read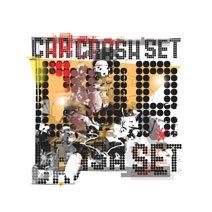 Elsewhere is always pleased to bring local vinyl to your attention (see Super Turtle and Body Corporate) and so here's another welcome opportunity: the album release of Auckland 80s electronic outfit Car Crash Set, here collected on vinyl by (of course) a German company.
The Germans have a thing for archiving Kiwi music on record (in the early 90s Little Wing of Refugees pulled together elaborate gatefold sleeve and box sets of albums by Farmyard, Human Instinct and others) and this makes sense for them too: from the country that gave us Kraftwerk and other artists who embraced electronic musical technology CCS would seem obvious -- if a little obscure.
CCS were knob turners and synth players Dave Bulog and Nigel Russell, with guitarist/producer Trevor Reekie -- and sometimes guest players (Ryan Monga from Ardijah appears on bass in a couple of places here.)
Being more akin to the atmospheric indie-pop of the (early) Orchestral Manoeuvres in the Dark end of the spectrum (not the Tubeway Army or Mi Sex axis) means their music stands up rather better than most from the period, and this eight song collection of singles and demos has a real spark to it.
One for collectors perhaps, but Car Crash Set certainly are long overdue for a rediscovery. They appear to have been written out of recent Kiwi pop histories which have preferred to focus on guitar bands. Pity, there's real period-piece magic here.