Graham Reid | | <1 min read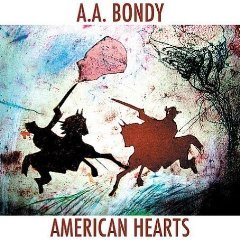 From what I have read, this dark folk album isn't what we should have expected from Mr Bondy out of Alabama. It seems he was previously the lead singer of an alt.rock band and drew favourable comparisons with Kurt Cobain.
Quite what made him drop the volume, pick up acoustic guitar and harmonica, craft literate and questioning songs, and aim for a place between Dylan (65 and 69), acoustic Neil Young and the shadowland of John Mellencamp and Ray La Montagne at their most melancholy we might never know.
But we should be very glad it has happened.
Bondy has a hoarse but melodic delivery, can fingerpick with the best, and it might help to know that he is married Clare Felice, from the same family as the excellent and similarly inclined Felice Brothers.
This is a kind of alt.country-folk with a smattering of blues, an oldtime America heart (Woody Guthrie) and yet in songs like the title track is firmly rooted in the disenchantment many Americans have felt in the past decade.
But he also spins a neat and memorable couplet ("love don't die, it just goes from girl to girl") sung with a kind of resigned sadness, not a baost.
I suspect his rowdy, boasting days are over.
This is a real keeper.