Graham Reid | | <1 min read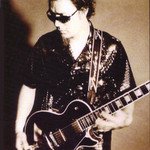 Over 10 years in the making by all accounts, which means that this is either a mammoth of Floyd-like dimensions or that Kerr is one helluva laidback character.
It's the latter if this lazy Sunday outing is anything to go by -- and of course he has been busy as Jetlag Johnson, guitarist with Wellington band Fat Freddys Drop.
This is mellow and soulful to the point of being horizontal -- it could pleasantly render you that way too -- but is most often sublime in its understatement, the gentle assimilation of his vocals into what is a predominantly an instrumental album, and the surface detail which sometimes refers to trip-hop, at other time Fripp and Eno, and overall has a persuasive if oblique electronica ambience.
I've been playing this for weeks and neglected to post it, but that's nothing compared to how long Kerr took to get to this point.
Real nice. Should we expect the follow-up in 2019?