Graham Reid | | 1 min read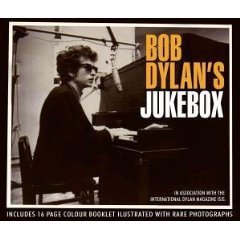 The influence of the young Bob Dylan (64-66) is evident today in singer-songwriters such as AA Bondy and Pete Molinari (among many others), and you can certainly hear unashamed echoes of Dylan 67 - 72 in the likes of the Felice Brothers and many more in the alt.country, folk-blues vein.
So there should be an audience for this 25-track compilation of artists who influenced The Man Himself, and this has been pulled together by a very creditable source: Derek Barker who edits the bi-monthly Dylan magazine Isis which he founded way back in 85.
Certainly magazines like Uncut, Q and others have been down similar paths (or have offered tribute albums to Dylan by the new generation of his acolytes) but this one is especially well collated.
Here are key tracks by Little Richard (Tutti Frutti) and Elvis (Milkcow Blues Boogie), Woody Guthrie (Pretty Boy Floyd), Hank Williams (Lost Highway) and the Carter family (Little Moses). And of course Blind Willie McTell whom Dylan paid tribute to in a song of his name.
As important but often overlooked in such collections are the other names here: Arthur "Big Boy" Crudup, Lightnin' Hopkins, Cisco Houston and Mississippi John Hurt from the blues end of the spectrum, and Roy Acuff, Johnny and Jack, the Stanley Brothers and the Bently Boys (whose Down on Penny's Farm here Dylan adapted, rejigged and located to Maggie's farm) from the country end.
The significant name missing is that of Buddy Holly -- but maybe Paul McCartney who owns his catalogue (or Buddy's widow Maria Elena who watches his legacy like a hawk) didn't give permission. Pity because it could then have been called definitive.
But even so this is an impressive cross-section of music, much of it from the Twenties to Forties -- and musicians who still have a powerful presence in Dylan's last decade.
With excellent liner notes by Barker this is one for Dylanologists young and old.