Graham Reid | | 1 min read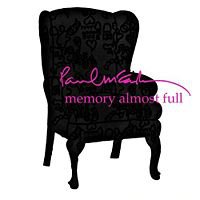 From the title to the reflective nature of many lyrics this -- McCartney's 21st post-Beatles release, not counting live albums, classical digressions, compilations, The Fireman project etc -- could be read as his public swansong.
He considers his life on the energetic That Was Me; in an aching falsetto You Tell Me he wonders about those perhaps mythical summers of yesteryear; and the poignant if lyrically clunky The End of the End asks that "on the day that I die I'd like jokes to be told."
In fact these songs were written in 2003, which places them in a period of happiness with his then-new wife Heather Mills -- possibly the subject of the irritatingly twee See Your Sunshine, and the yelping Gratitude. Both are heavily embellished but at core sound like knock-offs of the kind which have always burdened his solo work, proving again he still needs an editor.
Dance Tonight is a polite rocker driven by mandolin, the eccentric Mr Bellamy could have come from Magical Mystery Tour, Vintage Clothes is a jaunty rocker, and the breezy Feet in the Clouds crams a lot of musical ideas into three and a half minutes. All interesting more than essential however.
Again solo McCartney is irritatingly uneven but at its best -- the blistering Only Mama Knows and House of Wax which recall that vital period in the early 70s -- this proves he can still, sometimes shoulder-tap his muse.
But at 64, do we still need him should we still feed him . . .