Graham Reid | | 1 min read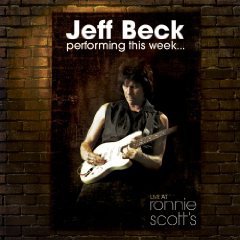 In a recent interview in advance of his Auckland concert next February, I put a quote to this guitar legend whose career started back in the mid-Sixties when he took over from Eric Clapton in the Yardbirds: that of all the guitar heroes his career had been the most slippery to follow.
He laughed and agreed -- then I told him that quote came from 1976, over 30 years ago. He laughed even longer.
In the past three decades since then -- which included sabbaticals, soundtrack work and solo albums of no great significance -- he became even more elusive. He'd turned his back on rock by the end of the Sixties, played blistering loud music which was hailed by heavy metal fans (he hated metal), was interviewed by jazz magazines because he worked with only the best and they were jazz improvisers, and his live work was never really captured on albums.
Until perhaps now.
This album, I put to him, was almost like a career synposis (he agreed) because it opens with Beck's Bolero which Jimmy Page (who replaced him the Yardbirds and went on to Led Zeppelin) sketched out for him; it touches on beautiful songs like Stevie Wonder's Cause We've Ended as Lovers (which came from perhaps his best solo album, the George Martin-produced Blow by Blow from 75), nods to his fusion period with keyboard player Jan Hammer in the late Seventies (Scatterbrain), his time in the Beck-Bozzio-Hymas power trio in the late Eighties (Big Block, Where Were You); his love of jazz (Goodbye Pork Pie Hat and a fearful stab at Mahavishnu John McLaughlin's Eternity's Breath), his re-interpretation of classic songs (The Beatles' A Day in the Life) and so on. Even a touch of reggae.
And he does all of this with supreme confidence, an extraordinary energy which can blindside you with techno and funk tossed in unexpectedly, and shifts from effects pedals to slide with barely a blink.
The man is a genius (he's currently nominated as a solo artist in the Rock and Roll Hall of Fame) but of course this album will only be of interest to those who can take a swag of guitar instrumental music. Not a vocalist in sight.
However when you hear him slide sideways into Nitin Sawhney's Nadia with its Indian overtones, deliver Cause We've Ended as Lovers with a sensitivity that has you holding your breath, or even bludgeoning home some riffery that would strike fear into Metallica, you have to acknowledge this is a man who can do it all on guitar.
The marvellously irritating fact about him is that in his long life he has done it with little thought to the marketplace, record company wishes, a career opportunity, and without much sense of coherence other than obvious: he pleased himself.
There are remarkably few essential Jeff Beck albums (Truth with Rod Stewart, Blow by Blow certainly) but this is one.