Graham Reid | | <1 min read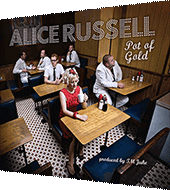 This white, funky-soul chanteuse from Britain who can sound like Nina Simone as much as having stepped out of the Motown roster, doesn't always pen the most memorable of songs -- but it's all in the gutsy and committed delivery.
She can get down'n'gritty or deliver up a sensuous yelp, and she backs it up with a hot band of horns honking, offering stabbing punctuations or great sweeps of sound.
This album (which includes a cover of Crazy) finds her high-stepping between Sixties/Stax-styled pop-soul (Turn and Run), funk (Hesitate, Got the Hunger?), Seventies Motown (Two Steps) and lashings of earthy soul stylings (Living the Life of a Dreamer).
She even slips into a sultry European cabaret clubland for Lights Went Out.
This is a diverse and sassy, sensual and soul-full collection -- and the good news is Alice Russell and her six-piece band play Wellington and Auckland at the end of the month. They will be shows to see. My guess is they will rock mightily.