Graham Reid | | <1 min read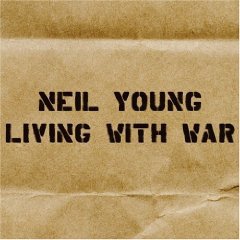 With an embarrassing breathlessness, American rock writers greeted Living With War by 61-year-old Neil Young as if it was to be a turning point in the anti-Bush/anti-war campaign.
All noted Young had knocked it off quickly in a fit of anger, but you have to wonder what took him so long to get round to considering the state of his (adopted) nation.
Some have hailed it - linking it with previous albums like Freedom, which hardly seems a compliment - and praised him for his courage. But that seems like saluting his politics rather than the album.
These songs with titles like Shock and Awe, Impeach the President and Flags of Freedom are mostly bludgeoning, tuneless rants and Young's lyrics are angry but at times laughably banal. Will anyone's opinion be changed or confirmed by hearing him yelp "don't want no more lies"?
Elsewhere, Young demands a strong man as leader (isn't that what a significant number of Americans thought about George Bush?) and then gets in his clumsy qualification that "maybe he is a woman, or a black man after all".
This will appeal to camp followers of similar political opinion but musically it is leaden.
And while it may be filled with righteous -- but belated -- indignation, if you are looking for a reference point it isn't Young's passionate, affecting Ohio, but those clunking diatribes on the Lennon/Ono Sometime in New York album.