Graham Reid | | 1 min read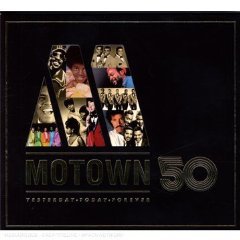 It would be very easy to acclaim this -- 50 of Motown's greatest hits over three discs to celebrate the classic soul label's 50th anniversary. Wow, what's not to like, huh?
But then you listen to it: the copy that has arrived for Elsewhere consideration (and presumably the one in New Zealand stores) isn't the UK edition but something else. Possibly the French edition?
The UK version opens with sensible, exciting, evocative trilogy of seminal Motown tracks: Marvin Gaye's I Heard it Through the Grapevine; Martha Reeves and the Vandellas' Dancing in the Streets; Baby Love by the Supremes . . .
After that it's the Four Tops, Temptations, the Isley Brothers, Smokey and so on. And if that ain't the sound of Motown nothing is. Well, here comes nothing.
The version I have opens with, get this: the Jackson 5's I Want You Back and I'll Be There, then Michael Jackson's Ben. After that Marvin's seminal What's Goin' On just seems misplaced, especially when what follows that slice of timeless, politicised soul is Michael again with Ain't No Sunshine, the Jacksons again . . .
This is an insulting, if not downright idiotic, running order which relegates great songs like the Supremes You Can't Hurry Love, the Four Tops' I'll Be There and Marvin's Let's Get It On way down the end of the first disc.
These are the 50 best Motown songs as voted for in an on-line poll (did New Zealanders vote for this version? If so we might need to consider whether universal sufferage is such a good idea.)
Nothing really wrong with those Michael/Jackson tracks of course . . . although c'mon, Ben and Rockin' Robin? They don't appear on the UK version, but in Britain they do get Jnr Walker's sax-classic Shotgun, the Commodores' Brick House and other essential Motown tracks not on this edition.
The running order of this version looks like it was compiled by a 12-year old, the UK version was pulled together by an adult who understood the social and political history of this label which rose from the black, working class streets of Detroit.
So a Motown collection without cornerstone songs My Guy, Please Mr Postman, Being With You, You Can't Hurry Love, Jimmy Mack, Bernadette . . . ?
Conclusion: Voting is over-rated. (Did people really vote Ben as the third most popular Motown song ever? Really?)
Poor selection, an even worse running order.
Oh, and I also had this to say on Charlotte's Morning Glory show on 95bFM, just in case you missed The Point.