Graham Reid | | 1 min read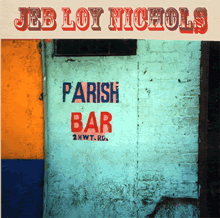 Some background to this guy who kicks off this winning album with a terrific song which sounds likes a distillation of JJ Cale, classic soulful disco and slippery Boz Scaggs basslines.
Nichols was born in Wyoming and raised in Missouri, assimilated country music and jazz from the radio, and when he was 14 his family moved to Austin where he saw "everything from Funkadelic to Bob Marley to George Jones to The Ramones".
He saw the Sex Pistols and their energy lead him to New York where, at 17, he studied art, befriended the likes of Neneh Cherry, saw Afrika Bambaataa kick-starting hip-hop in a local park. He moved to London and shared a house with Adrian Sherwood from On U Sound, Neneh Cherry and Ari Up (of the Slits). He formed a country band, released some solo albums and in 2000 moved to Wales. He recorded an album in Nashville with Mark Nevers of Lambchop.
Out of that gumbo of influences and styles comes this album which has hints of sultry nights in the Caribbean (Days Are Mighty), slices of country rubbing shoulders with slo-mo funk, gentle beats behind the reconfiguring of the Bil Munroe country song I'm Blue I'm Lonesome Too . . .
It has a slightly bohemian quality: it sifts judiciously through styles and pulls different elements together in a relaxed and understated manner, and as Rock'n'Reel observed, "listening to these deceptively simple lyrics and minimal arrangements is akin to being caressed by a warm summer breeze."
My guess is that Nichols' languid delivery will appeal to those who like Jack Johnson, Boz Scaggs, JJ Cale, Mose Allison and country-soul. And summer days with a beer.
Nichols undersells it when he says "it's an in-between time record -- what it sounds like at my house" and "that's what I wanted to say with Parish Bar. 'This is who I was and who I am.' No big deal -- just relax and have a good time."
In his company that is real easy.