Graham Reid | | <1 min read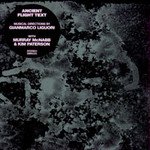 The previous album by Liguori (guitarist in Salon Kingsadore) was Stolen Paintings which found favour at Elsewhere for its jazz stylings and nicely stretching quality.
This time out -- again with Murray McNabb and Kim Paterson (and percussion player Steven Tait and Wes Prince on synths for one track) -- Liguori teases the threads even further apart for evocative, improvised space-flight workouts which have subtle changes of character although keep a momentum going.
At almost six minutes, Bronze Frog is a standout and when it fades you can imagine these guys could have just kept developing it further. And again Liguori is no spotlight grabber but lets McNabb and Paterson develop their own ideas within the broad frameworks.
There's quite some artillery used also: Liguori plays guitars, bass, African piano, and drum machine; McNabb has synths, Fender Rhodes and organ; Paterson is on drums, percussion and trumpet.
Wrapped in unique packaging with a mystical short story, Ancient Flight Text is another fine addition to Liguori's small but growing catalogue.