Graham Reid | | 1 min read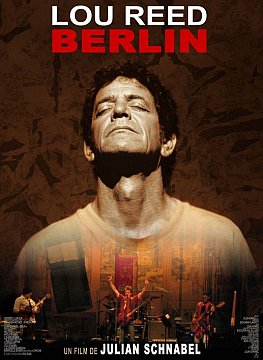 Elsewhere last year posted Lou Reed's 1973 Berlin as an Essential Elsewhere album, also noting the CD release of the soundtrack to this filmed concert of the album, staged and directed by Julian Schabel.
Berlin was an album that begged to be filmed and indeed there were loose plans, but then the album tanked, Reed had to hit the road to deliver his contractual obligation album Rock'n'Roll Animal, and Berlin faded from view. But like a ghost, it haunted him.
Film-maker Schnabel -- better known as an artist whose career the critic Robert Hughes has unrepentantly tried to sink -- decided to stage the album with Reed, a live band, seven-piece orchestra, the extraordinary Antony and a choir -- and with back projections, some of which involve re-enactments of the sometimes oblique, and definitely bleak, narrative.
It is an odd but oddly compelling film, not the least for Reed's apparently initial indifference to his surroundings and material which he has spoken so highly of: he is sphinx-like for much of the first third, then becomes increasingly engaged, at times flashing a smile, at others digging deep into the dark storyline.
It certainly looks good on the screen -- bigger the better I would guess, it was made for theatrical release -- and some of the playing is exceptional. It offers plenty of light and shade, but what sounded like Reed's compassion on the live album here can come off as a lack of engagement when you see his expressionless face.
That said, it is a film that deserves to be seen -- although the original album is still the one for those who want to hear how it was originally conceived, and just how much venom Reed could summons.