Graham Reid | | <1 min read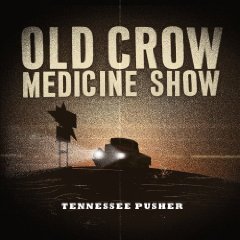 Reviewers have struggled to label this Nashville-based outfit, but they certainly sit somewhere along the contemporary bluegrass (new-grass?), alt.folk/country Americana axis with nods to old time music, Dylan (the opener here, Alabama High-Test, is bent bluegrass in the manner of Subterranean Homesick Blues) and the early Band.
They may adopt the instrumentation of a century ago (acoustic guitars, upright bass, fiddle, slide) and sing in that high lonesome sound or offer backporch storytelling, but they also deal with life in the 21st century (the title track and Methamphetamine about the scourge of the poor white folks, co-written with Gillian Welch's guitarist songwriting partner David Rawlings), the trickle-down of bad politics (the affecting Motel in Memphis about the murder of Martin Luther King) and the dispossessed (Crazy Eyes).
All this to chugging acoustic rhythms and with guest Benmont Tench on Hammond, and drummer Jim Keltner.
They do reach way back however: Lift Him Up is by the little-known Blind Alfred Reed (1880-1956).
With a few singers taking frontline duties they offer some diversity in delivery -- and Wilie Watson's plaintive style is the standout with its aching, high quality putting him directly in a great lineage.
OCMShow haven't achieved much of a profile in New Zealand and this is an uneven and unpersuasive album: but at its best you can hear why they could be quite something to see.