Graham Reid | | <1 min read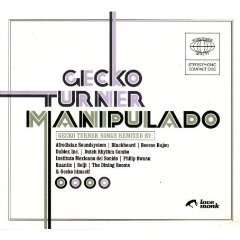 The Spanish producer/composer Gecko Turner's album Guapapasea! got a good notice at Elsewhere some while back, so this remix album of his stuff hit the player pretty quick-smart . . . especially when among the "manipulado" artists are Boozoo Bajou, Quantic, Afrodisiac Soundsystem, Seiji, Mexican Institute of Sound and others.
Let it just be observed then that, as we might expect, it is a mixed bag and by'n'large you are probably going to lose academic interest in who remixed what very quickly, about the time Afrodisiac have finished with $45,000 actually -- which is only the second track in.
After that it is just another soundtrack of highlights (Gecko's own remix of the Chet Baker-funk'n'soul Tontorronea, Quantic getting your attention with skittering percussion) and acres of space where you are carrying on a conversation oblivious to whatever Afro or Latin take someone has pulled out.
As always MIS grab a bit more attention than most (that's what happens when you slot in a bit of Bob Marley though) and Blackbeard's wobbly Tieso is diverting, but if you last to Boozoo Bajou's nice'n'cruisy Dizzie at the end you'll conclude this is a largely disposable artifact.