Graham Reid | | <1 min read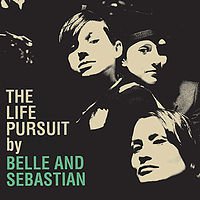 This long-running Scottish outfit has had brief flirtations with wider acclaim -- a Mercury Prize nomination in 2004, a year ago voted the Best Scottish Band Ever by their countrymen -- but has never enjoyed more than a devoted cult following.
That's a pity because their albums offer a bewildering, but beautifully realised, array of styles from Burt Bacharach sophistication to dark indie-rock and pure vacuous-sounding radio pop.
Not that mainman Stuart Murdoch isn't trying for greater acclaim: for their 03 album Dear Catastrophe Waiter they called in pop producer Trevor Horn, and for this typically quietly persuasive collection they have Supergrass/Beck producer Tony Hoffer presenting their colour chart of styles and mature lyrics in a good light.
White Collar Boy has a smattering of T Rex and early Bowie glam-pop; Sukie in the Graveyard is a jerky indie-pop killer with stabbing guitar and swelling Hammond; horn-punctuated Northern soul drives Funny Little Frog; Mornington Crescent is a slow alt.country ballad where Ray Davies' social observation is combined with personal disillusion; and so on.
There are the customary B&S flat spots (notably the lame To Be Myself) and seven albums in it's unlikely they will ever be massive, but this is further evidence of why their knowing, intellectual and cleverly considered music from a small corner of the pop pantheon deserves wider appreciation.