Graham Reid | | 2 min read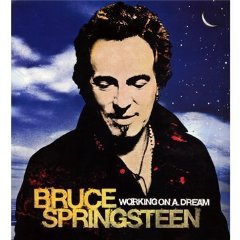 As a longtime listener to Bruce Springsteen and somewhat of a fan, it is still possible to be clear-eyed about his ever-expanding catalogue. His great period was certainly 1973-84 (from The Wild, The Innocent and The E Street Shuffle to Born in the USA) but it has been judicious pickings since then. The Ghost of Tom Joad ('95) was a remarkble return to the dark form of his Essential Elsewhere album Nebraska ('82), but good though Devils and Dust ('05) was, even there you felt you had been down this dusty trail before.
If his albums have failed to connect in recent years it is perhaps because he has largely been forced to traverse the same territory he staked out in those wonder years -- and fine though albums like The Rising ('02) were in parts they eventually just came down to a few key songs.
Frankly I thought his last studio album Magic ('07) was an enormously overrated affair and much preferred the joyous liberation of the Live in Dublin album of the same year.
This album -- again with Steven Van Zandt, Nils Lofgren and rest of the E Street Band -- regrettably comes off as too bombastic to be enjoyable, and sometimes too bloated to be endurable: the opener Outlaw Pete redefines epic around the eight minute mark and although it has lyrics which almost parody its character ("at six months he'd done three months in jail") the delivery is so po-faced that it demands you take it seriously. With overblown production (not to mention a riff lifted from Kiss) that's imposible.
And where he once sang persuasively of the downtrodden and working folks, Queen of the Supermarket here milks every cliche. Pete Seeger -- whose music he covered with feeling as recently as '06 -- seems to have taught him nothing.
Much has been read into the title and the new political era, but this album is largely apolitical (and it is worth remembering that his post-9/11 album The Rising was originally songs written about the social destruction of New Jersey which took on greater meaning when the Twin Towers fell). People often read into Springsteen what they want to hear. Which means we should listen to the title track here for what it really sounds like -- a track from a movie about a hard workin' man stretching his back for another day of labour under the sun rather than an inaugration anthem.
This is far from a lousy album -- it plays its best tracks later on -- but even longtime fans can feel disappointed, both by some of the writing and the widescreen production which leaves little room for the subtle. Kingdom of Days here is a lovely song (it sounds heartfelt) which might have benefitted from dropping the band -- and certainly the strings and big backing chorus -- entirely.
The Petty-like jangle and Orbison-inspired Surprise, Surprise; the more restrained What Love Can Do; the West Coast pop/Brian Wilson arrangement of This Life and country-folk of the harmonica wheezing Good Eye (with possibly a nod to Steve Earle's recent experiments with loops) are the highpoints of the centre of this 13-track album. The closer, the title song from the Mickey Rourke flick The Wrestler is kinda pretty. (A "one-legged dog making his way down the street" though? I'd pay to see that.)
But The Last Carnival (written for the late keyboard player Danny Federici) is where Springsteen excels: a kind of mumbled, metaphorical understatement.
Unfortunately on an album that starts off at an orchestrated bellow and sometimes goes up from there into the Bat Out of Hell ozone layer, it is one of the rare places where Working on a Dream is allowed to breathe.
Disappointing for the most part.
And is this Springsteen's worst-ever album cover?