Graham Reid | | 1 min read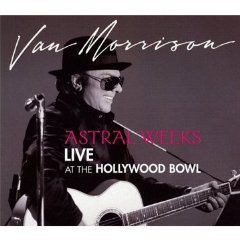 After years -- nay, decades -- of his indifferent albums it was real pleasure to post Van Morrison's excellent, understated Keep It Simple last year and then later pick it as one of the Best of Elsewhere 2008. When added to the non-chronological and slightly erratic re-issue programme, Van the Man seemed to be making something of a comeback to the frontline, albeit on the back of his earlier material such as the exceptional double live It's Too Late to Stop Now from 1973 which has long been an Essential Elsewhere album, one you should have in any serious collection.
Morrison is a man who rarely looks back, but (perhaps following the convention established by Sonic Youth with live performances of their Daydream Nation album, Lou Reed with Berlin and many others), late last year he decided to perform his classic 1968 Astral Weeks album in its entirety for the first time during two nights at the Hollywood Bowl. Forty years almost to the day after the release of the original album he assembled a band and string section and, after just one rehearsal, took to the stage.
Astral Weeks was then, and is now, an extraordinary conception: it was largely improvised in the studio with musicians better known for their jazz chops (guitarist Jay Berliner returned for the Bowl shows) and -- as with Tim Buckley albums around this time -- bridged the area between blues, jazz, soul, rock and folk. The album was completed in just two sessions, and some long jams had to be edited out to fit the constraints of the 40 minutes of vinyl available.
And so for this live outing we hear Van and band stretching these songs in manner similar to his original conception. But where the delicate poetry of the original was compelling for its fragility and mystery, in this live treatment Morrison allows for a more full range of emotions, from the authoritative (Slim Slow Slider/Start Breaking Down) to the reflective but bluesy (Madame George).
With more musical space he scats in places, does that repeat-repeat-repeat thing which is his signature, and allows for the band to comp behind him at length, squeezing in the spaces he leaves, and generally extending this material into a wider orbit.
Some old fans will doubtless prefer that classic original album, but here Morrison sounds more connected with the material than we had any right to expect, and certainly more then you might have thought after some of those dreary albums in the Eighties and Nineties.
On the night he warmed up with a set of his other classic material -- that should appear on the tie-in DVD later -- and here the set ends with a built-in encore of Listen to the Lion and Common One.
Blues, mysticism, the search for meaning, orchestration, folk, an open heart . . .
Van Morrison is that rare individual who encompasses it all. And bugger me if he isn't smiling on the album cover. A surprising one all round, in other words.