Graham Reid | | 1 min read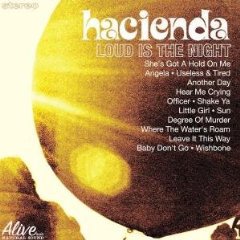 About two decades ago when magazines like Rolling Stone or rock weeklies such as Melody Maker were compiling their "best albums of all time" lists the Beatles' Sgt Pepper's and the Beach Boys' Pet Sounds would invariably be juggling for the top spot.
As time went on the baroque-pop of Sgt Pepper's of '67 was replaced by the pre-psychedelic Revolver of '66 (still a critical favourite) but increasingly you can hear the influence of the Beatles' earlier Rubber Soul alongside Pet Sounds in much contemporary pop-rock: it's the spirit of '65-'66 before everything went silly and symphonic and surreally psychedelic.
This album by a four-piece from San Antonio seems to embody exactly that ethos when songs rather concepts were paramount, when a guitar line meant more than a cello part, and when a lick of country-flavoured guitar (the young George Harrison studied Carl Perkins remember) wasn't amiss in a song which had stacked-up vocal harmonies.
In other words, Hacienda make classic pop-rock songs with an ear for a ballad but also the feel for harmony vocals like the Everly Brothers/Beach Boys/Beatles: in fact in Hear Me Crying here they unashamedly reach right back to the late Fifties for some echo guitar, Buddy Holly/Peggy Sue drumming and harmonies.
They aren't afraid to go a little "experimental" (the vocal effects on Officer) or even cover a Sonny Bono song (Baby Don't Go), and they craft a neatly modest ballad from the With the Beatles period too (Leave It This Way).
But mostly what you hear are echoes of Rubber Soul, the Beach Boys before the psychosis took hold, the feel for lightweight power-pop, and a hook that is not only rare but admirable.
Hacienda are also serious (the dramatic and brooding Degree of Murder which has ripples of Bacharach), but I suspect this album will be more appreciated by those who get those references than people of their own age.
Really interesting . . . and a bunch of great songs to boot.