Graham Reid | | 1 min read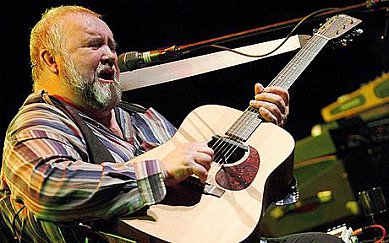 The death of this remarkably gifted British singer-songwriter in late January has gone largely unreported, but here we pay tribute to his exceptional talent.
Martyn was originally associated with the British folk scene in the mid-Sixties but his ambition and interests could not be contained there. Within a few years he had plugged in and was exploring innovative sonic effects, bringing an improvisational quality to his music and his 1973 album Solid Air (the title track written for the late Nick Drake) was a defining moment in British folk-rock, and for Martyn himself.
Often introspective and frequently relying on booze and drugs, Martyn separated from his wife Beverley (with whom he had frequently collaborated) and the resulting album Grace and Danger in 1980 was originally considered by his record company too depressing to release. It is an exceptional album, but not easy, and was highlighted at Elsewhere when it was re-issued in 2007.
Martyn continued to record throughout his long career (often shifting between acoustic albums and those of an electric-jazz persuasion), profoundly affected a generation of guitarists (among them Eric Clapton and David Gilmour of Pink Floyd, both of whom he collaborated with) and he also embraced the new sounds of hip-hop as a natural extension of his musical journey.
His personal life remained difficult (he lost a leg in 2003 and was confined to a wheelchair) and although he said he had beaten alcoholism that wasn't always evident in concert.
Difficult and idiosyncratic but quite clearly a particular kind of genius, John Martyn (born Iain McGeachy) was a man who rarely compromised in his life or his music.